Culture
1
Barbie Honors Yara Shahidi, Namoi Osaka and More with 60th Anniversary 'Sheroes' Collection
Barbie is celebrating 60 years with more than 20 new looks for the 21st-century woman.
Barbie is championing the age of the woman with the release of its 60th anniversary "Shero" collection, made to empower and encourage women of all shapes, sizes, races, backgrounds and more. But the $476 million doll brand isn't just manufacturing various faces to supply their new line at random. No, Barbie is breathing new life into its must-have female figures with the faces of powerful, real-life women from 20 different countries.
Mattel — Barbie's parent company — latest collection is focused on "women who are breaking boundaries in a variety of diverse career fields," because it's known that no woman is the same.
With dolls ranging from ages 19 – 85, girls from all walks of life will have real role models that look, act, and/or think like them to look up to going forward including Black-ish and Grown-ish star Yara Shahidi, and world tennis champion Naomi Osaka.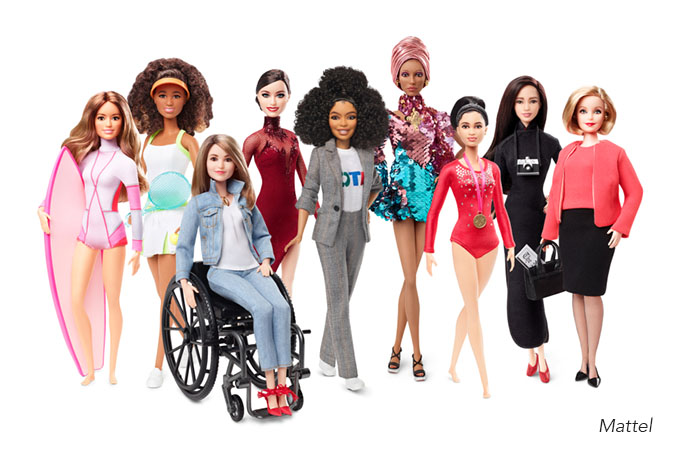 The collection doesn't just benefit those in need of positive, realistic images of women, it will also benefit the Barbie Dream Gap Project, which is managed by the Mattel Children's Foundation. Barbie will donate one dollar from every doll sold in the U.S. up to $250,000 as an "ongoing global initiative to raise awareness around limiting factors that prevent girls from reaching their full potential."
Barbie's General Manager and Senior Vice President, Lisa McKnight, is proud to announce the brand's latest mission in continuing to show that there's no job or dream a woman can't have or do.
"For 60 years, Barbie has championed girls, inspired generations to believe through make believe and showed them that they have choices. With more than 200 careers, six runs for president and a trip to the moon before Neil Armstrong, Barbie continues to evolve to be a modern, relevant role model for all ages. The Barbie brand believes girls should never know a world, job, or dream women haven't conquered. Through our global platform, we are igniting a movement to help close the Dream Gap and further establish Barbie as the ultimate girl empowerment brand."